Caroline Barton's First Own Design of Panel
When deciding on her 'own design of small panel' during her first term with Bournemouth Adult Education Caroline immediately thought of a suncatcher given to a family member and decided to base her design on it. Working from an emailed scan, she adapted the complicated design to suit a leaded construction and made it in similar glass to the original.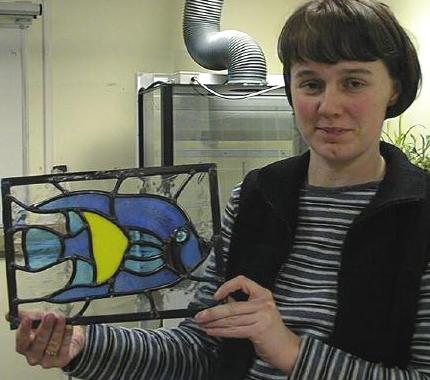 Return to Leaded Panels End of Term Report
* Gifts and Suncatchers * Mirrors * Lampshades * Window/Door panels * Unusual Projects *
---
New : Home : Shop : Studio : Tuition : Links : Map : Search : Crafts'R'Us
. . . . Stained Glass Gallery : Etched Glass Gallery : Students Gallery . . . .
---
© 2000 Bournemouth Stained Glass. All rights reserved Last updated on : 22nd December, 2000 Webmaster : Elizabeth E Law (contact at : elizabeth@stainedglass.co.uk)