LED Display Turntable
With their everchanging LED coloured lights our turntables can be used for many different applications including shop window displays, art and craft exhibitions, collector's displays etc. Crystals and other glass items are shown off to a spectacular degree as the lights in the base shine through the piece and enhance its beauty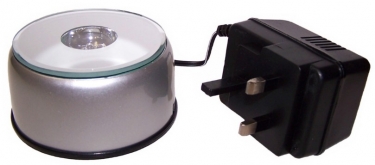 Measuring 80mm across the turning disc and with a 1.5 metre power lead and adapter, this turntable is a great way to show off your display items and attract the casual passer-by with movement and colour.

Not near a power point? No problem!! It can also be battery operated. It takes 3 AAA batteries (not supplied).
The turntable can be bought in our shop for UK pounds £10.20, or can be posted to you for an extra UK pounds 6.00 to cover the cost of postage/packing/VAT/admin within the United Kingdom.
How can I order mine?
To order within the UK send us your cheque made out to Bournemouth Stained Glass for the sum of UK pounds 16.20 with your address details, or phone (01202 514734) your debit/credit card details (all major cards accepted). Customers outside the United Kingdom please contact us giving your address to find the cost for delivery to your location. View our Postal Address and Contact Numbers.
Email (shop@stainedglass.co.uk ) orders are acceptable, but transmission is NOT SECURE.
---
New : Home : Shop : Studio : Tuition : Links : Map : Search : Crafts'R'Us
. . . . Stained Glass Gallery : Etched Glass Gallery : Students Gallery . . . .
---
© 1997 Bournemouth Stained Glass. All rights reserved Last updated on : 28th April, 2016 Webmaster : Elizabeth E Law (contact at : elizabeth@stainedglass.co.uk)