One Thousand Students
In May 1997 we found to our surprise that over a thousand students had attended our Adult Education courses. To celebrate this achievement we presented our thousandth student with over £100 worth of glass grinding equipment.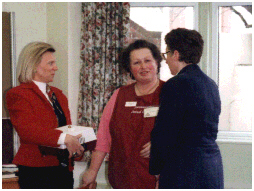 Here you can see Helen Brett accepting the grinder from Elizabeth - and congratulations from one of Bournemouth's Councillors.
Helen is now well equipped to continue with her next project - a 16" cone-shaped shade with fishes and waterlilies. Interested in learning the techniques? Join our courses and design and make your own unique stained glass lampshades.
---
New : Home : Shop : Studio : Tuition : Links : Map : Search : Crafts'R'Us
. . . . Stained Glass Gallery : Etched Glass Gallery : Students Gallery . . . .
---
© 1997 Bournemouth Stained Glass. All rights reserved Last updated on : 10th September, 2005 Webmaster : Elizabeth E Law (contact at : elizabeth@stainedglass.co.uk)