A FREE straight edge guide with this grinder
Our Best Buy for glass grinders for a long time has been the G121 - Superstar II from Glastar. It comes with a 'no quibble' 5 year warranty, two longer life bonded diamond grinding heads (3/4" and 1/4") and a FREE straight edge guide to neaten up those wobbly straight lines. (Full specifications below)
So visit our shop and get yours for UK pounds 175.00 including VAT!!
Live too far away to visit us but don't want to miss this great offer?
Our price including courier delivery, insurance, packing and VAT is UK pounds 190.00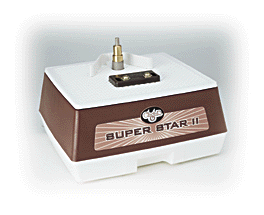 So send us a cheque made out to Bournemouth Stained Glass at 790 Wimborne Road, Bournemouth, Dorset, BH9 2DX or email us your credit/debit card details or request to pay via Paypal or phone me on my mobile phone to make a card payment.
Superstar II Specifications
Powerful 1/12 HP, 3450 RPM motor.
19 Inch-ounces breakdown torque.
Permanently "bonded" diamond grinding surface on the 'Quickfit' 3/4" main grinding head and the 1/4" grinding/drilling head.
Convenient coolant drain.
Flexible rubber splash guard.
Exclusive built-in accessory drawer.
---
New : Home : Shop : Studio : Tuition : Links : Map : Search : Crafts'R'Us
. . . . Stained Glass Gallery : Etched Glass Gallery : Students Gallery . . . .
---
© 1997 Bournemouth Stained Glass. All rights reserved Last updated on : 13th December, 2016 Webmaster : Elizabeth E Law (contact at : elizabeth@stainedglass.co.uk )