** LIMITED STOCK ** A Modern Gas Soldering Iron
Making Leaded and Stained Glass Windows as a business?
The oldtimers making leaded and stained glass windows, and colleges teaching stained glass to HND standards all use a Gas Soldering Iron for consistent solder joints and efficient working. But most Gas Irons for sale look like relics from Noah's Ark! Crude wooden handles and cast iron fittings with no adjustments possible.
We now have only a few left of these comfortable modern Propane Gas Irons for the traditional glass worker who wants a cost effective low maintenance tool.

Our current Special Price for the complete Gas Iron with copper bit, hose and propane gas regulator is only UK pounds 85.00 if collected from the shop.

. .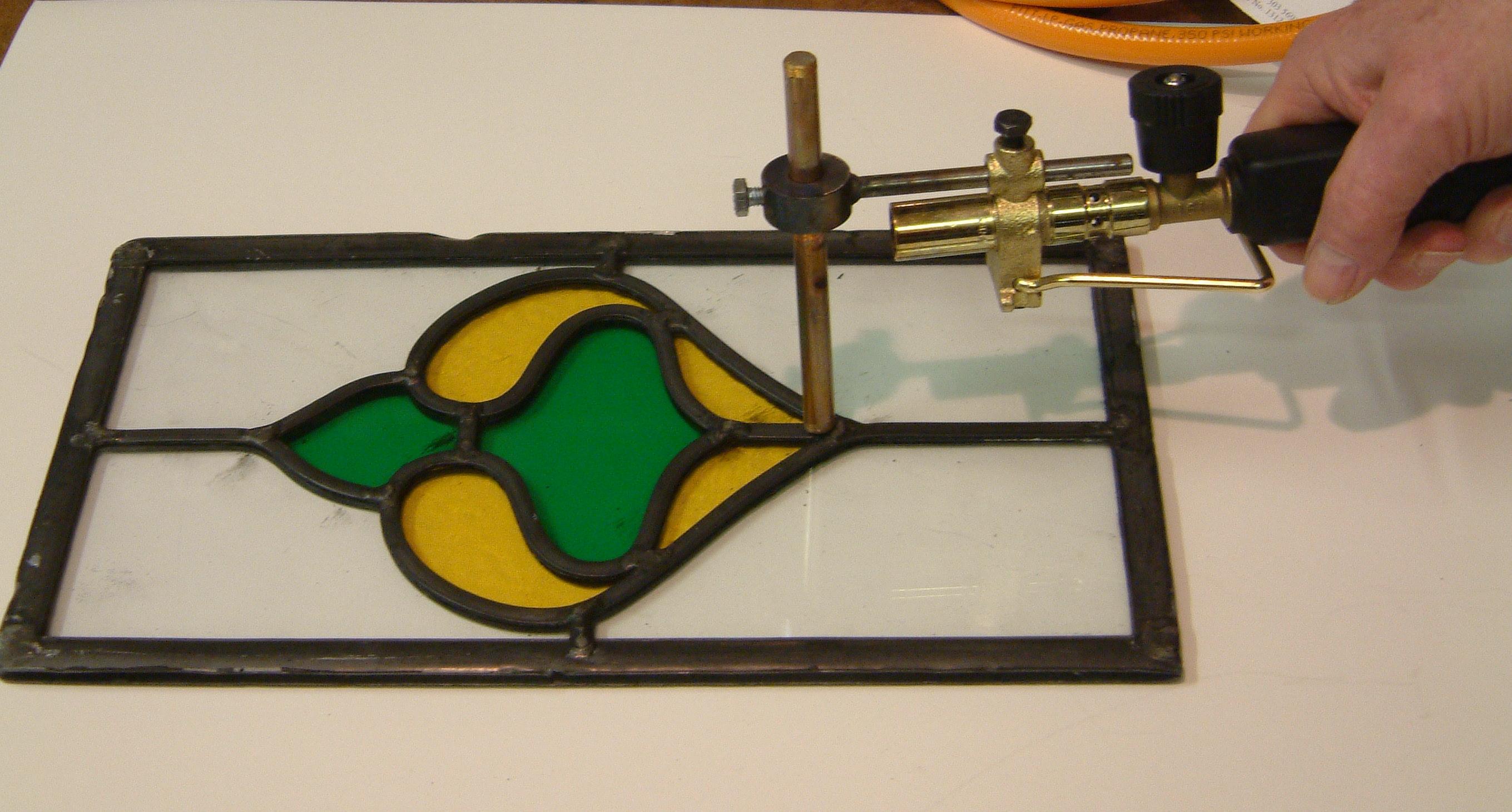 Cheaper than most heavy duty electric irons and once purchased the only thing you will ever have to buy is a replacement copper bit for a few pounds every couple of years ! No heating element to burn out or solenoid switch to get replaced! They can be run off a small propane gas bottle and are portable and easy to use - ideal for on site repairs.
The chap that taught Sam the trade 30 years ago bought his gas iron in 1931 and the only replacement he had needed to do was to buy a new bit every few years and his gas bottle seemed to last for ages before needing a refill!!

Live too far away to collect your gas soldering iron? Send us a cheque made out to Bournemouth Stained Glass at 790 Wimborne Road, Bournemouth, Dorset, BH9 2DX or credit/debit card details or ask for a paypal address if you prefer to use Paypal Our price of £98.00 including VAT and courier delivery is for UK mainland addresses so if you live elsewhere please contact us at shop@stainedglass.co.uk for a price including delivery.

Shop Hours and Location

---

New : Home : Shop : Studio : Tuition : Links : Map : Search : Crafts'R'Us
. . . . Stained Glass Gallery : Etched Glass Gallery : Students Gallery . . . .

---

© 1997 Bournemouth Stained Glass. All rights reserved Last updated on : 20th September, 2016 Webmaster : Elizabeth E Law (contact at : elizabeth@stainedglass.co.uk )