Hungry? . . . . visit our local cafe
---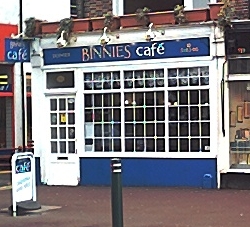 Whether you want just a cup of tea and a sandwich, beans on toast, a roast and veggies meal, home made steak and kidney pie, Smokey Joe (my favourite) or a "Fat Boy Slim" all-day breakfast - you will find what you need at
Binnie's Cafe, 721 Wimborne Road [tel : (01202) 518346].
Andrea and Barry and their cheerful staff will be happy to serve you from their extensive menu between 7.30 am and 3.00 pm Mondays through Saturdays. They are also open from 8.30 am to 2.30pm on Sundays.
So why not call in for a snack or meal when you visit our shop next. We are sure you won't be disappointed - after all, we eat there too!
---
New : Home : Shop : Studio : Tuition : Links : Map : Search : Crafts'R'Us
. . . . Stained Glass Gallery : Etched Glass Gallery : Students Gallery . . . .
---
© 2003 Bournemouth Stained Glass. All rights reservedLast updated on : 7th August, 2006Webmaster : Elizabeth E Law (contact at : elizabeth@stainedglass.co.uk)