New Improved Bottle Choppers
A tool every craft worker should have!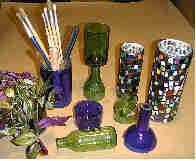 Bottle choppers for craft workers have been around for a great number of years and are the most satisfactory tool for cutting bottles, enabling you to run the glass cutter round the surface of a bottle in one clean score line - which is the only way to achieve a smooth break. With a certain amount of practice most people will be able to use the New Improved Bottle Chopper to cut a variety of shapes of glass blanks from old bottles to turn into useful and decorative items.
How much do Bottle Chopping Kits cost?
Standard Kit : only UK pounds 17.25 plus p/p 6.00 (Total UK pounds 23.25)
Contains the bottle chopper (already assembled) with illustrated instructions showing how to set it up to cut bottles, several methods of breaking the cut, how to finish the edges and some suggested uses for the technique.
De-Luxe Kit : only UK pounds 27.25 plus p/p 7.65 (Total UK pounds 34.90)
In addition to the Standard Bottle Chopper Kit and instructions we include the EasyBreak™ which almost always guarantees a clean break. The EasyBreak™ is designed to be powered by a 12v car battery, allowing it to be used in places where there is no mains supply of electricity.
Prices quoted above include VAT and postage/packing within the UK (allow 10-14 days delivery).
Non-UK customers please ask for price including postage stating your location.
How can I order my Kit?
To order send your cheque for the sum of UK pounds 23.25 (Standard Kit) or UK pounds 34.90 (De-Luxe Kit) with your address details to us at Bournemouth Stained Glass, 790 Wimborne Road Bournemouth, Dorset BH9 2DX, or or phone [01202 514734] your debit/credit card details (all major cards accepted).
Email orders (shop@stainedglass.co.uk ) are acceptable, but transmission is NOT SECURE.
---
New : Home : Shop : Studio : Tuition : Links : Map : Search : Crafts'R'Us
. . . . Stained Glass Gallery : Etched Glass Gallery : Students Gallery . . . .
---
© 1997 Bournemouth Stained Glass. All rights reserved Last updated on : 28th April, 2016 Webmaster : Elizabeth E Law (contact at : elizabeth@stainedglass.co.uk)